| | |
| --- | --- |
| | Our Community |




Anytown Chamber of Commerce
123 Main Street
Anytown, NY 20317
USA
(212) 555-4321
(212) 555-1234 fax

Send Us

E-mail

© Copyright 2011
Anytown Chamber of Commerce
powered by Website2Go.com
All Rights Reserved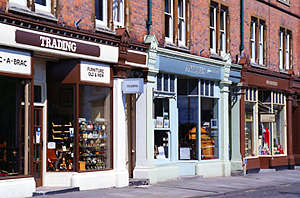 The Greater Anytown area, located 30 miles from Othertown in the Jones River valley, is the economic educational, recreational, transportation, and service hub for the coastal, central and northern State.

We are also the northern area's economic link to the five-state area. The architecture, attitude and atmosphere of the region reflect our history of prosperity, economic growth and success.

Today, Anytown offers history with a bit of frontier spirit, a demand for fine living and culture, and continuing optimism for the future based on our strong record of the past.

Outdoor Recreation
Those who make the area their home recognize a special quality of life created by the blend of metropolitan qualities and rural mountain and coastal scenery and outstanding outdoor recreation opportunities.

Our proximity to mountains, lakes, and coastal sections attract thousands of visitors annually. Located within an hour drive of the International Airport are National Parks, Anytown Harbor, State Park, Mount Jones and the Smith wilderness area. Yachtsmen cruising in Jones Bay are able to sail 20 miles up river to Anytown where moorings and excellent docking facilities are available.

Skiing, cross-country skiing, snowmobiling and skating during winter months give way to camping, canoeing, fishing, whitewater rafting, sailing, swimming, golfing, cycling and roadracing during the summer.

Cultural Attractions
The University provides the Anytown area with the best of film, dance, music, art, literature, theater, and sports. Anytown is home to the Theater Company and a community symphony. The Public Library has the highest circulation of any public library north of Othertown.

The Sports Complex, a world class little league baseball facility donated to the City by Bob Jones I in 1951, and Jones Arena, built from donations, reflect our community spirit. The city of Anytown was recognized by Smith World Magazine as an outstanding place to live and work.

Market Area
The Anytown primary market, which includes 28 communities within a 20-mile radius of the city, has a population base of approximately 56,000 people. Our secondary market encompasses more than 4 county areas in the eastern, coastal, and northern state, and comprises over 391,000 people.

Financing
Anytown is the financial center for the central, coastal, and northern state areas. Three statewide banks are headquartered here and all other major banks have regional offices. The area's financial and industrial sectors are served by several statewide and national accounting firms, law firms, insurance companies, and securities and investment firms. State and federal courts are located in town as well.

Medical Facilities
The area offers 5 medical facilities staffed with competent medical doctors, 6 chiropractors, 1 home health agency, 9 dentists, mental health services, 2 assisted living facilities and one nursing home along with a local public health center.

Adequate emergency medical ambulance service is provided by Medical Center and Anytown Hospital. The county has a 911 address system that aids emergency people in getting to locations as quickly as possible.

A number of high tech state-of-the-art medical facilities are available in nearby Othertown and Newtown when major attention and complex surgical procedures are needed.

Combined with a state-operated mental health institute, these facilities provide the Greater Anytown area with a comprehensive array of healthcare services, including cancer treatment, rehabilitation services and heart surgery.

Transportation
Anytown is a major transportation and distribution center for the northern two-thirds of the state. Several major airlines provide regular passenger and cargo flights to cities throughout the United States and Europe at International Airport. Direct flights to Boston, New York, and Chicago are available through Delta Airlines, American Airlines, United Airlines, and US Airways.

Containerized freight handling is available. The Central Railroad and the Anytown Railroad Line offers rail freight connections in all directions. Major interstate highways such as Route 1 facilitate the shipment of freight by truck, and a clean, reliable metropolitan bus system services the entire Anytown area.

Retail
The area also serves as the retail and convention center for the central and northern state. Our two major shopping malls offer hundreds of shops, boutiques and galleries, complementing the many fine restaurants and specialty stores located downtown.

Conference and Meeting Facilities
The Civic Center and Jones Auditorium provides comprehensive conference and meeting facilities and serves as host to sponsoring events, political conventions, concerts, and trade shows. An abundance of hotel and motel facilities provide ample accommodations for visitors.

Education
Anytown is well-known for the quality of its educational system. The area has excellent elementary, secondary, post-secondary, and vocational facilities providing quality education experiences. There are 15 public schools, 5 private schools, 2 vocational schools and several schools of higher education, including the University.

Education is a top priority and the value of our educational resources is well recognized. The region's cultural offerings are supplemented by the Center for the Arts and the Museum, located on the University campus.

Housing
Anytown has seen a boom in residential construction. The area's housing is still extremely affordable when compared to major metro areas.

Housing is available for all tastes and all budgets, including century-old Victorian mansions, colonial and contemporary houses, modern apartment complexes and condominiums, and mobile home parks.